Currency and Cost of living
New Caledonia's currency is the Pacific Franc (international abbreviation: XPF).
A fixed exchange rate with the Euro (1€=119.3317 XPF)  is guaranteed by the French Government , in a stable area from a monetary point of view.
Cost of living is relatively high (30 to 40% higher than in France) because of the high number of goods and merchandise imported mainly  from Europe, as well as from Australia, or New Zealand.
The IEOM issues the Pacific Franc.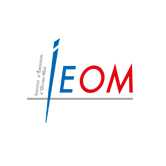 Exchange rate of the XPF Franc (or CFP)

1 Euro

1 USD

1 AUD

1 NZD

1 Yuan

1 Yen

119,3332 XPF

105,6 XPF

73,6 XPF

68,8 XPF

14,9 XPF

0,96 XPF